IRVINE, CALIF., June 26, 2017 – Celebrating Independence Day with off-road adventures is a wonderful way to appreciate our nation's outdoors with family and friends, and the Recreational Off-Highway Vehicle Association is reminding drivers to be responsible and safe when operating their ROVs.
"ROVs, also known as side-by-sides, are a great way to create memories with family and friends, but it is just as important to drive them responsibly," said ROHVA Executive Vice President Erik Pritchard. "We want to remind drivers and passengers to follow the ROV Safety Rules, which helps keep everyone safe, preserve our trails and lets enthusiasts get the most out of their vehicles."
ROHVA also encourages dealers, media and enthusiasts to help encourage safe driving by embedding ROHVA's Safety Rules graphics on their websites and social media posts to get the message in front of drivers.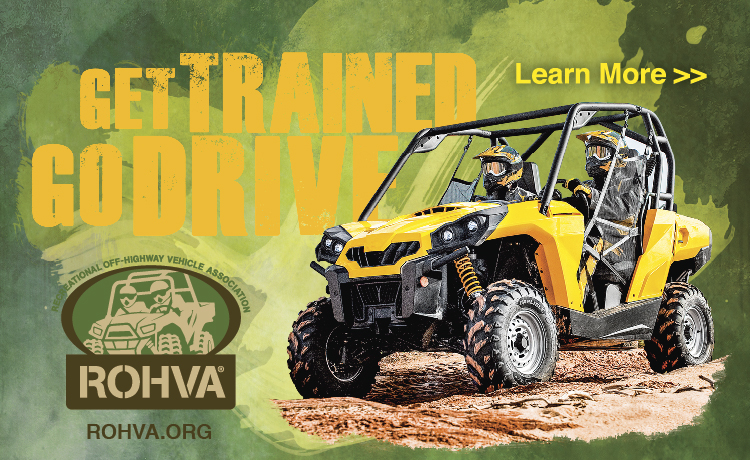 The ROHVA's Safety Rules graphics can be downloaded from the library on rohva.org. Be sure to hyperlink the images to rohva.org when embedding them on websites.
ROV Safety Rules
Always fasten your seat belt, wear a helmet and other protective gear and keep all parts of your body inside the ROV.
Avoid paved surfaces. ROVs are designed to be operated off-highway.
Drive only in designated areas, at a safe speed, and use care when turning and crossing slopes.
Never drive or ride under the influence of alcohol or drugs.
Never drive an ROV unless you're 16 or older and have a valid driver's license. ROVs are not toys.
Never carry more passengers than the ROV is designed for, and never allow a passenger who is too small to sit in a passenger seat to ride in the ROV.
Read and follow the operator's manual and warning labels.
Go to rohva.org to learn safe off-highway driving strategies and to find tips, videos and other free resources. Drivers can enroll in the free E-Course, get more information about the hands-on ROV Basic DriverCourse and find the nearest training location. In the ROV Basic DriverCourse, students are guided through real-world maneuvering exercises that prepare them for operating the vehicles safely and with confidence.
The Recreational Off-Highway Vehicle Association is a national industry organization that promotes the safe and responsible use of ROVs. ROHVA is accredited by the American National Standards Institute (ANSI) to develop equipment, configuration and performance standards. Based in Irvine, Calif., the not-for-profit association is sponsored by BRP, Honda, Kawasaki, Polaris, Textron Off Road, Yamaha and Yanmar. For more information visit rohva.org.