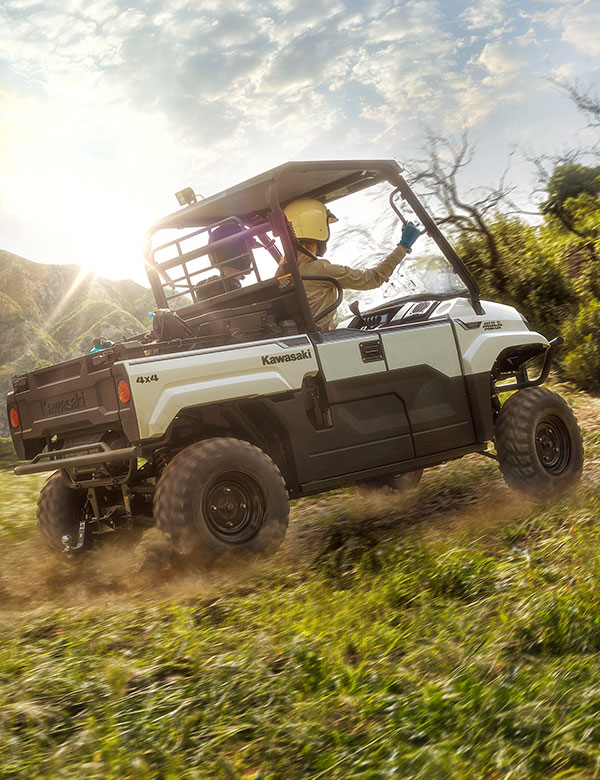 What is an ROV?
Fun, functional and definitely versatile, ROVs (or recreational off-highway vehicles) are a new breed of machine, attracting the attention of outdoor enthusiasts in ever-increasing numbers. When adventure calls, ROVs have what it takes, whether it's transporting gear to a favorite campsite or exploring the great outdoors. Intended primarily for recreational use, ROVs also have carved a niche in the workplace, including farming, construction, and just about anywhere there's a job to be done.
Sometimes referred to as side-by-sides or UTVs, ROVs are motorized off-road vehicles designed to travel on four or more non-highway tires, with a steering wheel, non-straddle seating, seat belts, an occupant protective structure, and engine displacement up to 1,000cc (for gasoline-fueled engines). Current models are designed for a driver and may have seats for one or more passengers. Their performance and durability make them ideally suited for a variety of outdoor recreational activities and work applications.
ROV vs. ATV
Not all off-road vehicles are the same. And all too often the All-Terrain Vehicle (ATV) is confused with the Recreational Off-Highway Vehicle (ROV). But there are some very significant differences.

Controls
The most noticeable differences include the fact that ROVs are "driven" and have a steering wheel for steering control and foot controls for acceleration and braking. In contrast, ATVs have a handlebar, a throttle controlled by pushing the thumb lever next to the handgrip, hand lever(s) for front and/or rear brake(s), a foot pedal for the rear brake, and they are "ridden."

Operators & Passengers
ROVs currently in the market are specifically designed for an operator age 16 years or older with a valid driver's license and may accommodate a driver and one or more passengers. ROVs generally have seats situated side by side or a bench seat, and they are equipped with operator and passenger seat belts and handholds. They also are equipped with a rollover protective structure (ROPS), and other occupant retention features. It's important to keep arms and legs inside the vehicle at all times.
Although there are a few exceptions, most ATVs are designed for one rider and have a seat designed to be straddled by a single operator only. ATVs are rider-active, which means in order to properly operate an ATV, the rider must be able to shift his or her body weight while riding. Adult-sized ATVs are for operators age 16 and older. Youth-model ATVs allow kids age 6 and up to enjoy ATVs while under active adult supervision.

Cargo
ROVs may have cargo areas that could include a stationary or tilting bed. Most utility-type ATVs have racks on both the front and rear of the vehicle to allow the rider to carry cargo. Whether you're operating an ROV or an ATV, always consult the owner's manual to determine the manufacturer's requirements regarding safe operating procedures, maintenance, and cargo capacity and load capacity for that particular vehicle. Never carry more than the stated limit for the ROV or ATV.